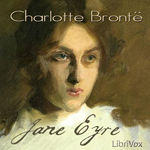 Jane Eyre by Charlotte Brontë
Length 18 hours 36 minutes 29 seconds
Download entire zip audio book HERE
Charlotte Bronte's classic novel Jane Eyre is narrated by the title character, an orphan who survives neglect and abuse to become a governess at the remote Thornfield Hall. She finds a kindred spirit in her employer, the mysterious and brooding Mr. Rochester, but he hides a terrible secret that threatens their chances of happiness.
This is a wonderful reading by Elizabeth Klett.  Listen to this book; you will not be disappointed.
Listen Now!  Click on a chapter to start the audio.