Just Released – Another Biff Brewster Mystery
Click on the image to go to the info page and FREE Chapter 1
Sample
Just Released – Via Berlin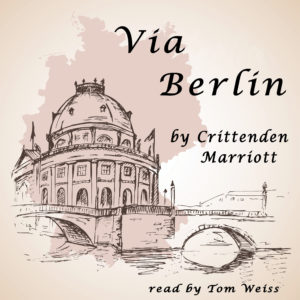 Click on the image to go to the information page.
A beautiful Brazilian countess with a secret mission. A Count with a German mother and a Brazilian father. A United States Navy Commander. A rebellion in southern Brazil. What do they have in common? Intrigue, romance, and conspiracy in this 1917 international mystery thriller.
Sample
Tom's Audio Books is a site that provides links to free and paid audiobooks.  Many of Tom's free short stories and books are in the public domain and have been recorded as a volunteer of Librivox.  
On this site, you will also find links to over 100 Audible.com books and stories Tom has recorded.  If you see a headphone symbol at the title on the menu,
you can listen to the first chapter of the book FREE – click on the link to the webpage.
You can listen to the free books and radio shows online near the bottom of the selected page by simply clicking on a chapter or shows to start the audio player.
Please select from any menu items at the top of the page and enjoy!
Tom