Coming Soon – Another Biff Brewster Mystery
Biff Brewster receives a 16th birthday present to go to Brazil to be with his father.  Biff believes he will be going on a safari.  Before leaving, Biff receives a secret letter from Mr. Stannart of the Ajax Company to give to his father.  Stannart informs Biff that his father is not looking for rubber plantations, as many at the Company believe, but instead is looking for a secret gold mine.  As Biff quickly discovers, others are looking for the secret gold mine and will stop at nothing to find it. In addition to thieves, Native headhunters and wild rivers await Biff and his father.
Andy Adams is the Grosset & Dunlap pseudonym for three writers who authored the Biff Brewster series of adventure and mystery novels for adolescent boys in the early and mid-1960s. Walter B. Gibson, Edward Pastore, and Peter Harkins were real-world authors.
Sample
Just Released – Via Berlin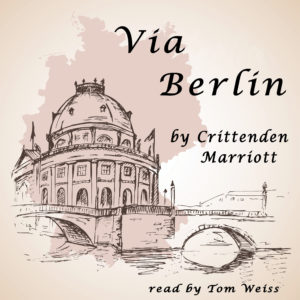 Click on the image to go to the information page.
A beautiful Brazilian countess with a secret mission. A Count with a German mother and a Brazilian father. A United States Navy Commander. A rebellion in southern Brazil. What do they have in common? Intrigue, romance, and conspiracy in this 1917 international mystery thriller.
Sample
Tom's Audio Books is a site that provides links to free and paid audiobooks.  Many of Tom's free short stories and books are in the public domain and have been recorded as a volunteer of Librivox.  
On this site, you will also find links to over 100 Audible.com books and stories Tom has recorded.  If you see a headphone symbol at the title on the menu,
you can listen to the first chapter of the book FREE – click on the link to the webpage.
You can listen to the free books and radio shows online near the bottom of the selected page by simply clicking on a chapter or shows to start the audio player.
Please select from any menu items at the top of the page and enjoy!
Tom