Just Released! – The Burgess Bird Book for Children
Coming in August – The Burgess Animal Book for Children….
Did you know that a nuthatch is the only bird that can go down a tree head down?  Or that there is a bird that lays its eggs in other bird's nests and they raise their young?  These and many other fascinating bird facts Peter Rabbit and young listeners can learn in storybook form.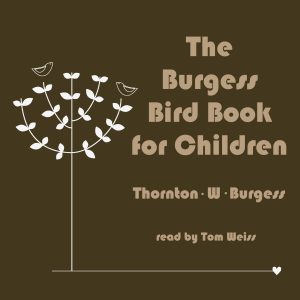 Click on the image to go to the info page.
Sample
Whispersync for Voice Ready available on this book
Tom's Audio Books is a site devoted to providing links to absolutely free audio books – no strings attached. Many of the free short stories and books recorded by Tom are in the public domain and have been recorded as a volunteer of Librivox.
On this site, you will also find links to Audible.com books and stories that have been recorded by Tom.  
You can listen to the free books and radio shows online near the bottom of the selected page by simply clicking on a chapter or show to start the audio player.
Please select from any of the Menu items at the top of the page and enjoy!
Tom