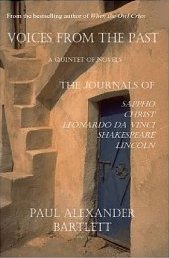 Lincoln's Journal by Paul Alexander Bartlett
In Voices from the Past, a daring group of five independent novels, acclaimed author Paul Alexander Bartlett accomplishes a tour de force of historical fiction, allowing the reader to enter for the first time into the private worlds of five remarkable people: Sappho of Lesbos, the famous Greek poet; Jesus; Leonardo da Vinci; Shakespeare; and Abraham Lincoln.
This audio recording of Lincoln's Journal has been made available through a Creative Commons License by the Publisher and was recorded by Tom Weiss.
Part 1 – Length 1 hour, 4 minutes 49 seconds
Part 2 – Length 1 hour, 17 minutes, 13 seconds
Part 3 – Length 40 minutes, 52 seconds
Listen Now!  Click on a chapter to start the audio.