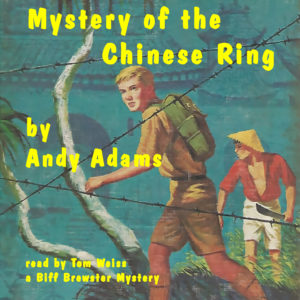 Click on the image to go to the Audible page.
Biff Brewster heads to Burma to visit his uncle, Charles Keene. His trip to the Far East is evidently of interest to other people. When he arrives in Burma, a kidnap attempt occurs at the airport. He doesn't understand why but escapes back to the airline terminal. An employee of Charles Keene finds Biff and takes him to Explorations Unlimited, Charles Keene's company. Biff discovers his uncle is missing in Communist China and decides to find and rescue him. During the rescue, Biff discovers a secret Chinese base whose knowledge is valuable to the United States.
Andy Adams is the Grosset & Dunlap pseudonym for three writers who authored the Biff Brewster series of adventure and mystery novels for adolescent boys in the early and mid-1960s. Walter B. Gibson, Edward Pastore, and Peter Harkins were real-world authors.
Sample
Chapter 1 Free