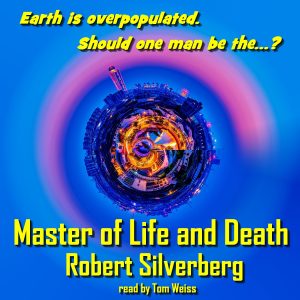 Want to hear a sample?
Click on the cover above to go to Audible
This is award-winning author Robert Silverberg's fifth science fiction novel, written in 1957.
The year is 2232. Earth is grossly overpopulated. The nations of the world, working through the United Nations, have authorized a global bureau known as the Bureau of Population Equalization (Popeek), whose goal it is to relocate people from overcrowded areas to the less densely populated parts of the planet. A highly unpopular euthanasia program weeds out newborns who have may have defective genes and accelerates the deaths of the incurable. One man, Roy Walton, an administrative assistant in the bureau, becomes the administrator of Popeek and discovers plots against him personally and the bureau. Do the means justify the ends? Walton must decide if he is to become the Master of Life and Death.