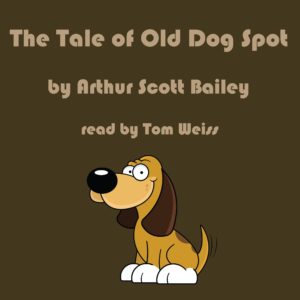 Click on the image to go to the Audible page.
Sample
Spot is a farm dog. His master is Johnny Green, son of Farmer and Mrs. Green. As with many dogs, especially farm dogs, Spot manages to get into his share of scrapes. He has run-ins with some of the farm animals, most notably Miss Kitty Cat. Miss Kitty Cat and Spot have their battles, and Spot has the scars on his nose to prove it. Miss Kitty Cat would be happy if Spot were not on the farm at all. Henrietta Hen and Turkey Proudfoot are also not very fond of Spot. Spot wants to be included in most of the Green family's activities, and this leads to some interesting problems for them and Spot.
Arthur Scott Bailey was an American writer who penned more than 40 children's books. Mr. Bailey centered all his plots on the animal, bird, and insect worlds, weaving natural history into the stories in a way that won educator's approval without arousing the suspicions of his young readers. He made it a habit to never "write down" to children and frequently used words beyond the average juvenile vocabulary, believing that youngsters respond to the stimulus of the unfamiliar.
This work was published in 1921 as part of Arthur Scott Bailey's Slumber-Town Tales.