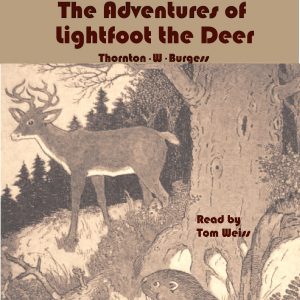 Sample

This story is available on Audible.com
Click on the artwork above to go to Audible for an audio sample of this story.
Lightfoot the Deer is a story about animals in the Green Forest that are hunted in the fall. The story is mostly about Lightfoot, a male deer hunted by one hunter and describes how he tries to escape being shot. The story tells Lightfoot's encounter with another buck and a battle for territory and the lovely, Miss Daintyfoot. As with most Thornton Burgess books, young listeners learn valuable lessons about nature, wildlife, and positive morals.
Thornton W. Burgess was a conservationist and author of children's stories. He loved the beauty of nature and its living creatures so much that he wrote about them for 50 years. By the time he retired, he had written over 170 books and 15,000 stories for a daily newspaper column.