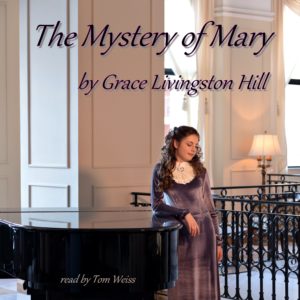 Listen to the first chapter FREE.
Sample
Click on the image to go to the Audible webpage for this audiobook.
The Mystery of Mary is one of Grace Livingston Hill's earliest books, copyrighted in 1910. Hill was a prolific author during her lifetime. This is just one of more than 100 novels. It's a typical Hill romance but may have more mystery than some.
Tryon Dunham, a wealthy attorney is approached by a young woman who is running from some unknown danger. She is beautiful, well dressed, and obviously educated. She won't tell the young man why she's running, but he decides he will help her.
Tryon arranges to take her along to a dinner party to which he has an invitation. At the dinner party, "Mary" (the name Tryon has given her) plays the piano beautifully and charms his hostess and the other guests. But, she is desperate to escape, so he provides her a ticket for a train to Chicago.
Unable to get her off his mind, he decides he must find her again. He doesn't even know her name, so finding her seems an impossible task. Undaunted, he goes to Chicago in search of her.