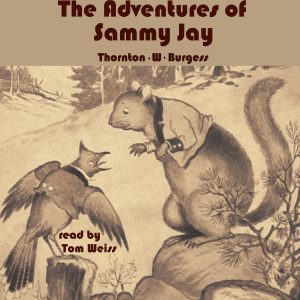 Sample
This story is available on Audible.com
Click on the artwork above to go to Audible.
Sammy Jay is a blue jay who, like most blue jays, is mischievous. He delights in making trouble for other creatures of the Green Meadows and the Green Forest. Sammy really doesn't want to see them hurt, he just wants to make torment them.
Enter Chatterer the Red Squirrel, who also lives in the Green Forest and can be as troublesome as Sammy Jay. In The Adventures of Sammy Jay, Chatterer and Sammy Jay match wits and show off their bad attitudes toward one another. As he does in all his books, Thornton Burgess presents younger listeners with good moral values sprinkled throughout the book.
Thornton W. Burgess was a conservationist and author of children's stories. He loved the beauty of nature and its living creatures so much that he wrote about them for 50 years. By the time he retired, he had written over 170 books and 15,000 stories for a daily newspaper column.
Get the Kindle Book to let your child read along with the story.  Click on the image below to get the book.
Amazon Reviews of The Adventures of Sammy Jay