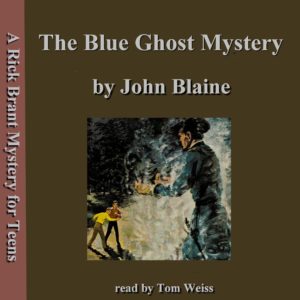 Click on the image to go to the Audible page.
Listen to the first chapter free
Time: 11 minutes 19 seconds
Listen to a sample from a chapter
Time: 2 minutes
Barby, Rick Brant's sister, and Jan Miller have sighted a Civil War ghost while vacationing in Virginia. The ghost is, apparently, a Civil War Union soldier who died while visiting his sweetheart across Confederate lines. The ghost always appears exactly at 9 p.m., and then only when there is a considerable audience. Rick and his ex-Marine pal Scotty, travel to Virginia to investigate the ghostly sightings. A cave, a pool, clouds of mist, figures walking over the fields at midnight picking up the invisible dead from the war…are they real ghosts or people. Maybe science can help explain it along with good old detective work? It is up to Rick and Scotty to discover the truth.
Rick Brant is the central character in a series of 24 science-adventure and mystery novels by John Blaine, a pen name for Harold L. Goodwin. Goodwin was a popular science writer with a strong technical background and a sense of style unusual in the juvenile adventure-series field.
Written in the 1960s, the books have a real scientific tone for the time. The books are suspenseful, well-plotted, and enriched by humor, important characterization as well as personal experience, and exotic locations. All in all, a good fun listen for teens of all ages.