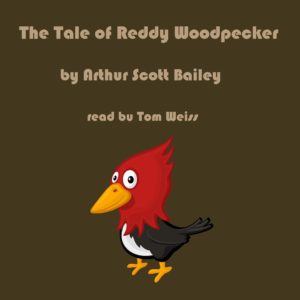 Click on the image to go to the Audible page.
Sample
Reddy Woodpecker is new to Pleasant Valley.
Flying over Pleasant Valley one day, he decided to land and decided that it would be a good place for him to live. Reddy was strange to his new neighbors and some were rude and did not make him feel welcome but Reddy took it all in stride.
As with all of Arthur Scott Bailey's animal stories, there are lessons to be learned about real life. For example, when Reddy met Cuffy Bear and they went hunting for grubs together, we learn about greed. Children are also introduced to new and different kinds of birds and their nesting and eating habits.
Arthur Scott Bailey was an American writer who penned more than 40 children's books. Mr. Bailey centered all his plots in the animal, bird, and insect worlds, weaving natural history into the stories in a way that won educator's approval without arousing the suspicions of his young readers. He made it a habit to never "write down" to children and frequently used words beyond the average juvenile vocabulary, believing that youngsters respond to the stimulus of the unfamiliar.