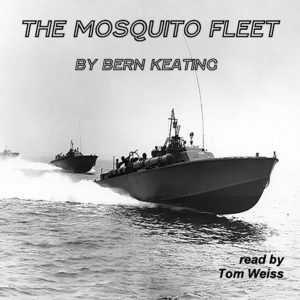 Click on the image to go to the Info page
Sample
The Mosquito Fleet is a documentary about America's small but strategically important fleet of PT boats during the Second World War. After Pearl Harbor, the American Naval Fleet was at a severe disadvantage to the mighty Japanese fleet.
Enter the PT or patrol torpedo boat of the US Navy. Built for speed and carrying four torpedoes, the wooden craft proved to be a significant "irritant" to the enemy in terms of their effectiveness in combat. They earned the nickname "Mosquito". PT boats were used in the Pacific, Atlanta, and Mediterranean theaters of action. Keating's documentary is based on action reports, squadron histories, and other naval records, plus diaries, letters, anecdotes, etc. supplied by PT crewmen.
Bern Keating served as a communications officer in the US Navy during World War II.