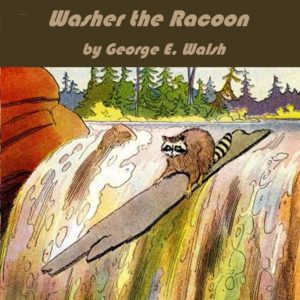 Click on the image to go to the Audible page.
Sample
4 minutes 19 seconds
First Chapter Free
8 minutes 15 seconds
Washer is a baby raccoon, who along with his brother's play together. One day Washer is playing with some sticks near a waterfall. He leans too far in and falls into the water. Luckily he is able to pull himself up onto a large branch going over the waterfall. His mother hears his cries but by then, Washer is over the falls and all raccoons fear he has perished. No raccoon has ever survived going over the falls.  Washer manages to swim to shore but captured by Sneaky the Wolf and carried back to his den. Sneaky intends to feed his cubs with Washer, but Mother Wolf falls in love with Washer and decides to raise him along with her cubs. As Washer grows, however, it becomes evident he is not a wolf and can't remain with the pack. Having been away from raccoons so long, the other raccoons no longer trust him because they think he is a friend of the wolves. How does Washer regain their trust?
George E. Walsh was an American author, known particularly for his large number of children's books for different age groups. Washer the Raccoon is part of the Twilight Animal series, a collection of stories for children aged four to 10.