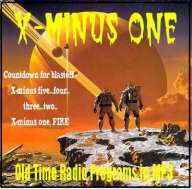 Scroll to the bottom of the page for the shows
From The Internet Archive:
"X Minus One aired on NBC from 24 April 55 until 9 January 58 for a total of 124 episodes with one pilot or audition story. There was a revival of the series in 1973 when radio was attempting to bring back radio drama and it lasted until 1975. The show occupied numerous time slots through out its run in the 50's and thus was never able to generate a large following.
X Minus One was an extension of Dimension X which aired on NBC from 1950-51. The first fifteen scripts used for X Minus One were scripts used in the airing of Dimension X; however, it soon found its own little niche. The stories for the show came from two of the most popular science fiction magazines at the time; Astounding and Galaxy. Adaptations of these stories were performed by Ernest Kinoy and George Lefferts. They even wrote a few original stories of their own. The writers of the magazine stories were not well known then but now are the giants of today. These stories came from the minds of Ray Bradbury, Isaac Asimov, and Poul Anderson to name a few."
Listen Now!  Click on any show to start the audio.