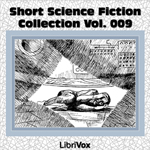 The Day Time Stopped Moving by Bradner Buckner
All Dave Miller wanted to do was commit suicide in peace. He tried, but the things that happened after he'd pulled the trigger were all wrong. Like everyone standing around like statues. No St. Peter, no pearly gate, no pitchforks or halos. He might just as well have saved the bullet!
Listen Now! Click on the play button below.